724Learning Course Design Studio

The Course Design Studio can be broken down into the following two sub-components:
Content Management and Authoring
Assessment Management Facility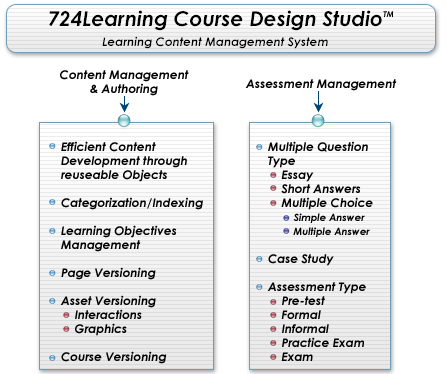 The Course Management and Authoring is used to design and develop and manage new course material. Courses can be broken down into unlimited definable hierarchal levels. These levels can be customized according to style guide policies or the editors' requirements. Example: Unit, Lesson, Topic, or Chapter, Page.

This provides the Course Design Studio with the ability to replicate the structure of any paper-based course. Navigation is simplified by opening and closing levels (similar to a directory tree) from a dynamic table of contents.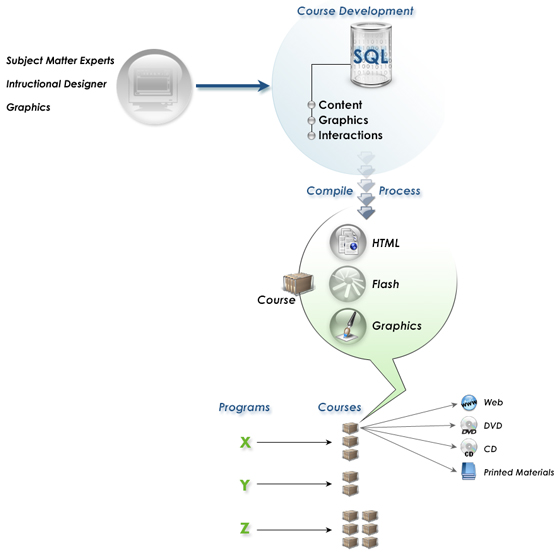 724Learning Course Design Studio provides an interface that allows an editor to enter content and change the structure of a course throughout the development process. Content is managed in a database that stores all learning content related to courses in a single source system containing text, graphics, and interactions represented as learning objects.

Content is compiled into stand-alone modules comprised of HTML pages, and objects (graphics, interactions) which are placed within the content delivery module of Learning Solutions Studio.

As you can see this facility provides a comprehensive tool to create and edit course content easily. Since course content can be categorized, stored, indexed, and retrieved by learning objectives, purpose, or keywords, course designers may create multiple versions of a course or new courses by simply modifying and re-using existing content stored by any of these categories previously listed. Each course created is assigned a unique keycode, consisting of a course and version number, to track unique course versions and content changes.